The next 2, 3 and 4 May Archena will it hosting the XLI Congreso Internacional de Peñas Del Athletic Club Bilbao. We currently have vacancies for this event.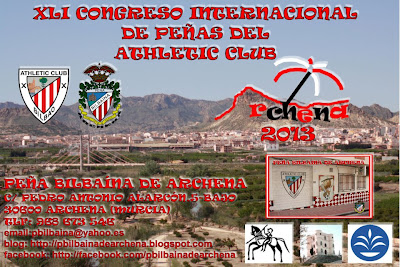 For Archena Bilbaína Peña, organizing this Peñas XLI International Congress Athletic Club is a great honor but also both exciting and challenging at the same time an incentive of extra motivation, which is organizing the congress best fans in the world, surpassing that have left the bar very high previous congresses, so the task is arduous and difficult to present this humble rock and its Board.
For several years the rock has been playing an important social and sports in Murcia and in the vicinity of singular and picturesque Ricote Valley which is part, revealing exporting sporting values ​​and pouring the feeling "Athletic" over there where he has performed, and it is that love and passion for the colors of Athletic, who made the decision to this board to nominate this congress, capping social and sporting project which began in Archena beyond by the year 1972, and particularly since 1995, when the current Board kicks in transforming the rock into what is now a modern project, exciting, inclusive and which feels orgusollo to represent the brand "Athletic" in our beautiful villa Archena Area, within the Region of Murcia.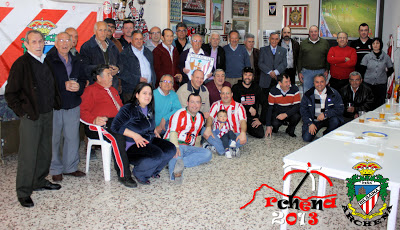 We hope that in the town of Murcia, spa town par excellence, anyone any rock member attending the congress, feel at home, loved yet attracted by our people and their people, who over many years have learned to treat travelers and tourists as it deserves, given the long tradition of spa tourism treasures.
It would be unfair to close this opening without thanking all those who have made it possible to hold this conference, because without their invaluable assistance would not be possible, I mean the City of Murcia, all shops and businesses of the people who have helped the International Federation of Peñas Athletic Club, the Association of Southeast Athletic Peñas, and of course, to thank Athletic Club and responsible for choosing and be able to realize this project, we hope not to disappoint and to live up to only deserves Athletic Club. I hope everyone in Murcia in May 2013