PROLOGUE
Archena Spa is 1.5 Km from our Hotel. Next to Segura river rises the Archena medicinal mineral water spring.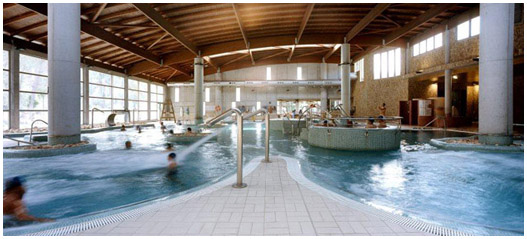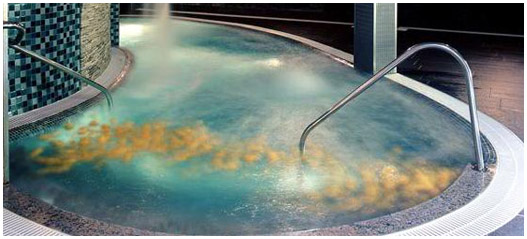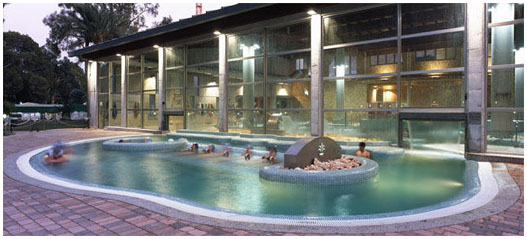 The situation of the complex and the view are enchanting and unique. The Spa is a veritable oasis, an excellent spot where the climate remains mild througout the year.
It's an ideal place for relaxing and enjoying a lovely holiday. The Archena Spa complex is a big and modern hot springs center, with magnificient facilities, a physiotherapy center, active thermal pool, waterfalls, jacuzzis, necks of swan .../p>
Likewise, Archena Spa offers a Thermal esthetic service with facial and body treatments. They have others services as: chocolate masagge, pindasvedas, diamond experience, chakra store massage ...
Finally, enjoy a thermal bath at the new active thermal pool, with jets, jacuzzis, swan's necks, bubble beds ...
To complete this excellent easing offer, you can enjoy services as: Baths of Bubbles, Hammocks of Bubbles, Rivers, Jacuzzis, underwater mud massages help improve return blood a relaxing therapy. You can find these services at thermal gallery.
You can treat these various ailments: rheumatic, respiratory and skin conditions, Archena massage, mud, hydromassage thermal bath ...
To complete the services, you can find a line of thermal cosmetics. The line of Thermal Cosmetics uses Archena medicinal mineral water as its principal agent for rehydrating the skin. It meets the needs of delicate and sensitive skin ina a scientific and naturak way. Each product has been developed with the scientific rigour of modern-day dermocosmetology. All their products have been designed to minimize the risk of allergic reactions.
TREATMENTS
In Archena Spa, a team of medical specialists will constantly look after your health, adapting treatment to each case, client by client.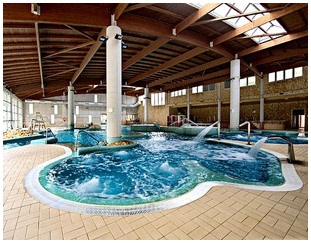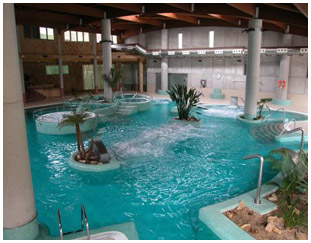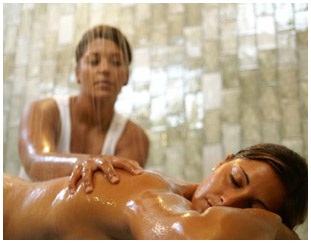 HYDROTHERMAL
Hydromassage Thermal Bath
Archena Massage
Thermal Steam Room
General and Local Mud
Circular Showers
Thermal Jet
Hand Baths and Foot Baths
PHYSIOTHERAPY AND FUNCTIONAL RECOVERY
Cervical Treatments
Dorsal Lumbar Treatments
Circulatory Problems Treatments
Caser Beam Treatments
Maintenance Treatments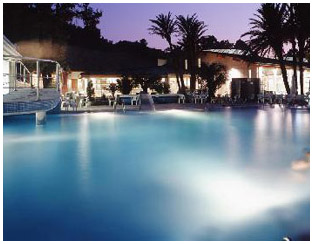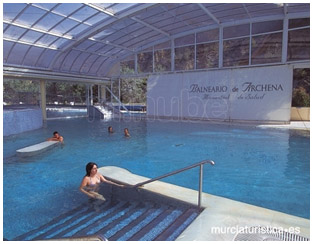 SERVICES
The Archena medicinal mineral water, rises at the centre of Ricote Valley, next to the Segura river.
The situation of the complex and the view it commands over Archena Spa are enchanting and unique: it is surrounded by the river Segura.
The beneficial properties of its medicinal mineral waters become a benebit to the public. Classified as rich in calcium, sodium, chloride and sulphum, with abundant hydrogen sulphide, they rise at a temperaure of 52º.
They are an excellent natural remedy to treat rheumatic, respiratory and skin conditions. The waters are effective and healthy treatment to combat many more or less chronic ailments, or simply to prevent them.
Underwater mud massages help improve return blood circulation and reduce muscular contraction, and are a relaxing and soothing therapy.
Therapentic treatment:
Rheumatic, arthitis, catarrh, bronchitis, sinsitis, etc.
Phychological:
Underwater mud massage help improve return blood circulation and are a relaxing therapy.